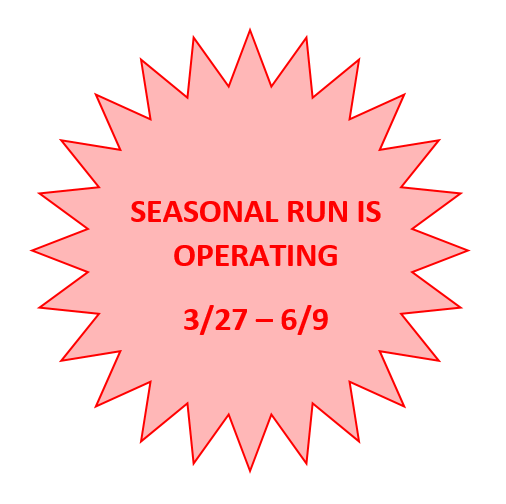 Monday – Friday / Lunes a Viernes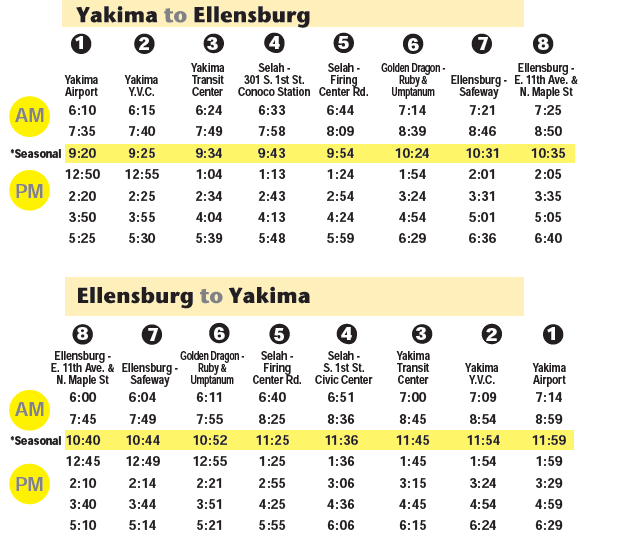 *SEASONAL RUN: an additional midday trip is provided between each city when the Seasonal Schedule is in effect. The seasonal run is operating 1/2/23-3/17/23 and 3/27/23-6/9/23. To inquire regarding the availability of the season run please email Transit@yakimawa.gov, or call (509) 575-6175. The run highlighted in yellow is the only seasonal run. All other runs operate year round.
Commuter Bus service only operates Monday – Friday and does not operate on nationally or state recognized holidays. A list of service holidays is available here.
Fares:
One-Way Fare – $5
Monthly Pass – $150
One-way fare may be paid in cash upon boarding the bus. One-way tickets are also available where monthly passes are sold.
The Commuter Monthly Pass also provides unlimited services on all Yakima Transit and Central Transit buses for the month of the pass.
One-way passes: a transfer ticket is available free from the commuter driver if you want to continue your trip on a Yakima Transit bus. A transfer will only be given out when paying a cash fare or using a single ride ticket for the commuter.
Passes are sold at the Yakima Transit Center, Yakima Public Works, Yakima City Hall, Yakima Valley College (YVC), Kittitas County Chamber of Commerce, and the CWU Wildcat Shop